About iSmile Dental Software
Setup in 2005, iSmile Dental Software was designed from the ground up by dental practitioners who have a unique understanding of the needs of a busy dental practice. iSmile Dental Software very quickly enhanced functionality traditionally offered in the marketplace by introducing modern and intuitive features. Patient management, treatment planning, diary bookings, finance tracking, recalls, reminders and day to day administration – iSmile Dental Software handles it all giving you the peace of mind to concentrate on the care of your patients.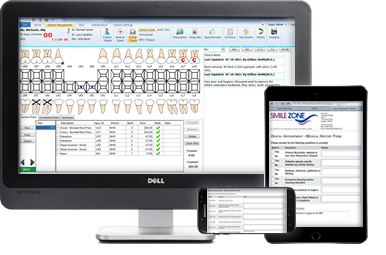 Here are some testimonials from our clients:
We've been using iSmile Dental Software for about ten years now. We've found it to be easy to use, completely reliable and we have direct access to our own Consultant. iSmile is like a trusty forceps, it just works! We don't have any problems with iSmile and its a truly headache free experience dealing with their staff.
We have been using iSmile at another practice for a number of years (where we previously used Software of Excellence) and could not wait to move away from R4 at Nightingale Cottage Dental Practice. iSmile is intuitive, easy to use and helps with all aspects of patient care. Thank you for an excellent support service!
Straight forward and user-friendly software. The training was very good and informative! The training and handover process was handled very well and the data transfer from Carestream R4 was really straight forward too. Excellent support, as per recommendations. Don't go anywhere else!
I contacted iSmile to install software at my new practice. Although I had not used iSmile before I had heard great reviews and I was impressed with both their sales process, training handover and of course their ongoing support. Its the best software out there and I would not recommend any other system.
iSmile Dental Software will certainly open up more resources to our patients. Easy to use, modern and stylish.
We can see how iSmile Dental Software's various marketing features are going to help our business grow.
I wasn't even planning on getting any software for my practice but once I took a demo I was convinced that my business needed it. iSmile have a positive energy and the system is very user friendly. Training was excellent and the aftercare is amazing. No delay in response at all and they are always updating the features.